The United Nations Development Programme's (UNDP) Human Development Report (HDR) is probably the most widely read document published by the UN every year. But the reports are not widely read by young people, which is why the UN is inviting young people to make a short, colourful summary of it. The process is the same as before. If you did not take part last year, what we do is to create a task force of individual young people, school groups, etc. and get them to bring to life the key messages of the HDR with opinion pieces, reports, poems and stories, paintings, cartoons and photographs - so that everyone can understand these messages. The result is a beautiful, fascinating book entirely written and illustrated, designed and edited by young people. You can view the one we did last year here the design and editing is done by the young international interns here at the world-famous Peace Child International centre, near Cambridge, UK.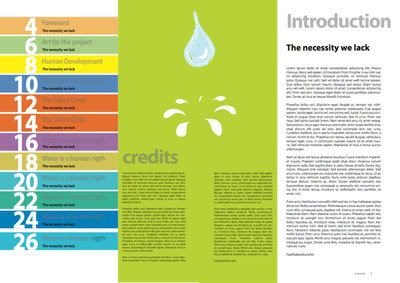 UNDP Water Rights & Wrongs Publication 2007
Contributors can watch the book come together, page by page, online. Also, you can suggest a different story, another photograph, painting or design element, just as if you were sitting at the Editorial Meeting table.
VIDEOS:
This year, the UNDP has asked us to go further and invite young people to create 30 to 90 second videos on how climate change affects you and what you feel should be done about it. There are three ways you can contribute:
1) If you have a camera and the necessary editing equipment, you can go ahead and make your video. They can be short, dramatic pieces, scripted and acted out by you and your friends; or a documentary cut together to make an impactive statement about what you feel to be a key aspect of climate change. Or a mix of the two. The finished videos should be uploaded to our YouTube Group
2) If you have a camera, but no editing equipment, you can send us a tape, along with a script of how you would like it to be edited, and we will edit it here – IF we feel the material and idea is of sufficient quality.
3) If you have no camera but a great idea, write a script: we – and the UNDP – will review all of them and select the best 4-5 scripts, arrange production details – and edit the tape into a finished movie.
You will be able to view all the videos on the YouTube group - and choose your favourites. The best 15-20 videos submitted will be edited into a single 30-minute show introduced by a celebrity host. It will be distributed by the UN to broadcasters around the world in time for International Youth Day – August 12th 2008. For questions on the video project please email Adam
What are the Key Messages this HDR delivers about Climate Change?
• Climate Change - its effect on People: We've had the UN scientists' report from the Intergovernmental Panel on Climate Change (IPCC); we've had the report on its economic impact in the Stern Report. This Human Development Report is about people and how we are all affected by climate change.
• The poor suffer most from Climate Change - and will suffer more: Given that 2.6 billion live in poverty, unable to meet their basic needs, these people are likely to be the first to face the impacts of dangerous climate change and suffer human development reversals. The Report tells that the poor are already suffering, and will suffer more, as a result of climate change. But we will all suffer later. In fact, some rich countries are already seeing the impacts of climate change and are dealing with its consequences. If we do not avoid dangerous climate change, the consequences will be more severe and widespread.
• Urgency: The Report argues that climate change needs urgent action: today we are living with what we did yesterday; tomorrow we will all live with what we do today. We need to take action now.
• Climate change - a serious threat to our ability to meet the MDGs: - we depend on our world's eco- systems for water, for agriculture, for our industries, our livelihoods and many other aspects of our life - climate change poses a serious threat to our ability to meet the eight Millennium Development Goals especially as it is the poor who are already seeing its impacts.
• Climate change - an immense threat to Human Rights: The UN Universal Declaration of Human Rights talks of the inalienable rights of the human family to "freedom, justice and peace". Climate change is an immense threat to those rights. Yet it is also a reminder that we are a single, interdependent human family sharing a common home on Planet Earth. The UN has a key role in the discussion, and the action, on climate change to protect human rights.
• Both Mitigation and Adaptation needed: Mitigation means taking action to reduce greenhouse gas emissions to avoid more climate change. It is about transforming the way that countries produce and use energy and changing industry and activities to reduce or eliminate emissions. Adaptation is the way people respond to new or changed conditions in climate, such as more droughts, flooding or severe storms. It means adapting our current and future lifestyles, towns, cities, infrastructure - everything! - to take account of climate change. The report states that both actions need to be taken to fight climate change and the threats it poses to humanity.
• UN is well-placed to give Leadership: Climate change is exactly the kind of global challenge that the UN was set up to address. The Secretary-General has made it his personal priority to work with Member States to ensure that the United Nations takes effective leadership in the fight against climate change.
Almost every government now puts climate change high up their national agenda. We know it is important - and could actually have catastrophic consequences in many regions of this planet. Yet, to date, our behaviour has changed very little: we drive our cars as much if not more; we are taking more holidays in more further-away places than ever. And our schools are still more likely to teach us about ancient history than the near-future when the impact of climate change will irreversibly affect our lives.
The key messages of this HDR represent the world's best thinking about the impact of the climate change crisis on people and what we should all do about it. If you choose to join our Task Force and contribute to this project, we shall send you bi-monthly updates full of ideas and information from the report. For now, here's how you can help:
What we want you to do?
If you want to contribute stories, paintings, poems and reports about climate change, sign up now for the Task force at: [email protected]. We will give you password restricted access to the editorial process. Contributions can be made in any UN language - English, French, Spanish, Russian, Arabic and Chinese. The booklet will be edited in English, so English submissions are preferred where possible. Videos can be submitted in any language, as long as any dialogue are translated into English. All contributors will get a copy of the finished booklet and a certificate. The best contributors will be invited to be editors and given an all-expenses paid trip to the UK to work with the Peace Child youth team + UNDP officials on editing the final booklet. But hurry! The contribution deadline is May 29th 2008 and, if you want to be considered as an editor, get your contributions to us by April 26th 2008.
How exactly should we contribute?
Video Format – The higher the quality, the better: if you submit mobile phone videos, it might make it to the YouTube Group – but is very unlikely to be broadcast. Digital format is, of course, preferred – though we can deal with analogue format if that is all you have. Note that most videos fall down on sound quality - so take steps just to use a music track or sound effects. And make your video as visual as possible.
Booklet Format- Here, as last year, is an outline of what we have in mind, and what we need from you:
ILLUSTRATED FRONT COVER This is a challenge for a great young artist or illustrator: we are looking for a really striking image that reflects the issues outlined above; allow your imagination to run wild and create an image that will make our entire global family understand why young people are concerned about climate change. The person whose painting/cartoon is chosen for the front cover is automatically invited to the editorial meeting. - Forewords: One by a UN Official - probably the UN Secretary General this time; the other by the young editors
- What is Human Development? - An Introduction to Human Development and the history of these brilliant UN reports.
- What is Climate Change? - the background, the history, and why it is so important. This is a great opportunity for creative writing and images: if you suffer the consequences of climate change - think of creative ways to communicate your situation: you know - first-hand - why climate change is such an important issue: scream your concern through a story, or a painting, or a powerful photograph! If you are interested, look back in your history - find out when Climate Change first became an issue for people in your country. Identify those politicians, those scientists, celebrities and, if possible, young people - who first drew attention to it. Tell us their stories (with a photograph of them if possible)
- The impact of climate change on people: - why is it that the poor have contributed least, yet are already the ones suffering most - and will suffer more - from Climate Change: this is perhaps the most important message coming out of the UNDP's report - and we must communicate it powerfully and vividly. Consider the recent cyclone in Bangladesh: imagine the pain of a resident of a Pacific Island as s/he prepares to leave their home because the sea-level is making their island disappear beneath the waves. This is another great opportunity for creative writing - poems, stories, diary entries from a future date, letters dated 2050 to your grand-children - along with powerful paintings and drawings.
- How Climate Change impacts all the other UN Agendas: these pages will explain the UN's Millennium Development Goals to halve the numbers of people living in extreme poverty by 2015 etc. Climate change can stop that happening: floods, hurricanes, droughts, sea-level rise and heat-waves will wipe out farming communities, wreck our cities, destroy crops and animals and create environmental refugees. Imagine that - research the impact, and write stories and poems, paint paintings to communicate those human development setbacks. Here we are, happily getting richer, better fed, with healthcare services and schools at last - then suddenly, climate change comes along and all our hard-earned gains are lost in a night of flooding. It can happen here in Europe - and in North America as we saw with Hurricane Katrina.
- Solutions (1) Mitigation: it's a big word - not much used by young people. So - explain it to yourself and to your friends! It means taking action to reduce greenhouse gas emissions to avoid more climate change, such as building renewable energy grids - de-carbonising our communities. Again, not rocket science: investing in electric solutions - where the electricity is generated by wind, solar, hydro power, not coal-fired power stations; not traveling so much - tele-commuting; taking holidays nearer to home; personal carbon or air-travel quotas; turning off the lights and applicances that are not being used; these are all part mitigation strategies. Research the issues: explain what you want your government - and the UN - to do now to reduce (mitigate) the effects of climate change!
- Solutions (2) Adaptation: Another big word - it means adapting our current and future lifestyles, towns, cities, infrastructure - everything! - to take account of climate change. It's all pretty obvious stuff - building sea walls to protect coastal regions from rising sea-levels, adapting agricultural practices to changing weather patterns, and assisting those who are already affected by climate change by increasing their resources. There are hundreds of practical solutions we can summarise and simplify here. Along with your photographs, paintings, poems and stories!
- A global problem needing global solutions: the UN has been waiting for an issue like this to come along to show just why it is so badly needed in our world. It has already shown its leadership by negotiating the Montreal Protocol on Ozone depletion in the atmosphere, and the 1st Kyoto Protocol. These pages will look at the role the UN can - and should - play: the HDR has plenty of ideas, and UN-insiders have their thoughts. But they want yours: what ideas do you recommend to be undertaken by an international body and its member states to solve the problems related to climate change? What are your thoughts on this? Tell us - and we will print them!
- Solutions (3) - there are so many other things going on that offer solutions to the climate change crisis. We want to use these pages to explain some of them in more detail. So tell us what you think will work: we know there is no silver bullet - no one-shot solution that will solve all the problems, but what are, in your view, the most-important ones. Explain them to us, and tell us why you think it is the most important action we should be taking.
- A World Beyond Climate Change: what will this look like?? Don't give us the familiar hi-tech, space-age vision of cities of gleaming glass and stainless steel. Give us new visions of a future with more green space - more trees, more energy-efficient houses, cleaner, fuel-efficient transportation! Use your imagination here: think forward to when you are an older, retired person: what kind of world do you think you will look out on to? We are looking for several visions here: some will be depressing - some more positive. Just no clichés please.
- Take action NOW!!! - If you don't know already, find out why climate change is such a priority to take action upon right now. It will affect all of us - from the multi-billionaires to the poorest of the poor: no one is excluded. So we must all be involved. Find stories which you think illustrate, powerfully, the urgency of this crisis. Take photographs - or create paintings, cartoons (we love cartoons!) - write poems from the bottom of your heart! - again, express as powerfully as you are able, the need to take action to address climate change now - as it is the current young generation, and their children, who will suffer most from the consequences.
- What young people are doing: we need inspirational stories of what young people are doing in your area to combat climate change. We know that a ton of stuff is happening in most countries of the world - and we want to be sure we have the most up-to-date, most incredible, most powerful stories about the impact that the effort and imagination of young people is making on this critical world issue. But, of course, it is not enough!
- What more can young people do? This climate change challenge is the big one in our lives. Our actions to date have barely made a dent in the problem. So get your thinking hats on - and come up with some brilliant ideas for what young people should be doing to address this - the defining challenge of your generation. We want to have a register of ideas that will spark the reader's interest and make them say, "Yes - I could do that!" Young people can do amazing things: we know that - and we want your ideas for ending the threat of climate change to shape our leaders' thinking about it right now.
- IILLUSTRATED BACK COVER - Remember the title of the Report - "Fighting climate change: Human Solidarity in a divided world" - We want a full-page illustration for the back cover that in some way suggests this divided world - how the rich are, in the short-term, able to buy their escape from the climate change crisis - but how that option is not available to the poor. Think of a slogan that will capture young people's imaginations - and define the youth role in lifting the threat of catastrophic climate change from our world for ever. We shall publish the best of them in our updates. And the editors will decide. But slogans are great - and quick to write. So give us some! - and then do a master-piece painting to illustrate it.
For more information on this project and the official call out letters in English, French and Spanish please visit here